interGen LOVES Joomla!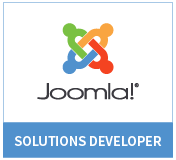 It is our primary website development platform. Joomla is an award-winning content management system (CMS), which enables you to build Web sites and powerful online applications. Many aspects, including its ease-of-use and extensibility, have made Joomla the most popular Web site software available. Best of all, Joomla is an open source solution that is freely available to everyone.
What's a content management system (CMS)?
A content management system is software that keeps track of every piece of content on your Web site, much like your local public library keeps track of books and stores them. Content can be simple text, photos, music, video, documents, or just about anything.
What are some real world examples of what Joomla! can do?
Who uses Joomla?
Joomla is used all over the world to power Web sites of all shapes and sizes.
More examples of companies using Joomla can be found in the Joomla Community Site Showcase.
If you are interested in learning more about what Joomla can do for your company or organization, let us know! We would love an opportunity to share the possibilities with you. And don't worry, we dislike pushy sales people too.
Give us a call (888) WEB-GET1 or (888) 932-4381 or send us an email and together we can sort out if our services are right for you.
---
interGen Web Solutions is not affiliated with or endorsed by the Joomla! Project or Open Source Matters. The Joomla! logo is used under a limited license granted by Open Source Matters the trademark holder in the United States and other countries.